[caption id="" align="alignnone" width="460"]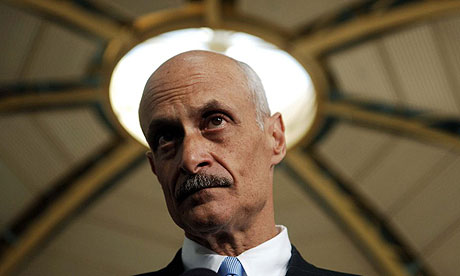 Michael Chertoff[/caption]
BAE Systems Inc. is perhaps the largest weapons manufacturer in the world. It has a "special relationship" with the Pentagon ("It is the only foreign-based contractor permitted to participate in the military's most sensitive programs, and it is the main industrial conduit between America and its oldest, most reliable ally") and with Saudi Arabia, and with the UK.
BAE Systems had a
history of being accused of bribery
. At one point,
Saudi Arabia intervened
to get an investigation dropped by Tony Blair. Then, the
United States fined them
before more deeply
incorporating them into our defense grid. Fine or bribe? BAE Systems, which was more of a British than American company (although it is definitely multinational)
is instrumental
in the militarization of the police in the United States. IF the Anti-Christ wanted a weapons company, this would be it.
It continues to grow.
And check out the staff...
Michael Chertoff
Mr. Chertoff is the Former Secretary of the U.S. Department of Homeland Security
Michael Chertoff is the Chairman of the Board of Directors of BAE Systems, Inc., the U.S.-based subsidiary of BAE Systems plc. The U.S. headquartered business employs more than 46,200 employees in the U.S., UK, South Africa, Sweden, Israel, Germany, Mexico, and Switzerland and generated 2010 sales of $17.9 billion. Chertoff is Chairman and Founder of the Chertoff Group, a security and risk management advisory firm with offices in Washington, D.C., New York and London. Chertoff is also senior of counsel at Covington & Burling LLP's Washington, D.C. office and a member of the White Collar Defense and Investigations practice group. Previously Chertoff served as Secretary of the U.S. Department of Homeland Security. As Secretary, he led a 218,000 person department with a budget of $50 billion to develop and implement border security and immigration policy, promulgate homeland security regulation, and spearhead a national cyber security strategy. He also served on the National Security and Homeland Security Councils, and on the Committee on Foreign Investment in the United States. Prior to his appointment to President George W. Bush's Cabinet, he served from 2003 to 2005 on the U.S. Court of Appeals for the Third Circuit. Before becoming a federal judge, Chertoff was the Assistant Attorney General for the Criminal Division of the U.S. Department of Justice. In that position, he oversaw the investigation of the 9/11 terrorist attacks, and formed the Enron Task Force. Chertoff's career includes more than a decade as a federal prosecutor, including service as U.S. Attorney for the District of New Jersey, First Assistant U.S. Attorney for the District of New Jersey, and Assistant U.S. Attorney for the Southern District of New York. As a federal prosecutor, Chertoff investigated and personally prosecuted significant cases of political corruption, organized crime, and corporate fraud. Chertoff is a magna cum laude graduate of Harvard College and Harvard Law School. From 1979-1980, he served as a clerk to Supreme Court Justice William Brennan, Jr. Chertoff has received numerous awards including the Department of Justice Henry E. Petersen Memorial Award (2006); the Department of Justice John Marshall Award for Trial of Litigation (1987); NAACP Benjamin L. Hooks Award for Distinguished Service (2007); European Institute Transatlantic Leadership Award (2008); and two honorary doctorates. His trial experiences have been featured in over half a dozen books and many news articles.
Robert Fitch
Fitch possesses more than 30 years of experience in the intelligence field, serving in management positions in the military, industry, and legislative branch of government. Robert Fitch served as senior vice president, Government Relations for BAE Systems, Inc. from 1999 until his retirement in 2011.He previously held the position of Vice President, Government Relations with Marconi North America and Tracor, Inc. Prior to Tracor, he served as the Vice President, Corporate Strategic Development for GDE Systems, Inc., a subsidiary of Tracor. During the 1970's, Fitch served in the U.S. Army. His assignments included the Pentagon as the Army's functional officer for tactical intelligence programs; Germany as the aide to an infantry division commander; the Cryptologic School as a company commander of 300 men and women; and Vietnam as an advisor. His awards include the Legion of Merit and the Bronze Star. From 1984 to 1993, Fitch was the Senior Professional Staff Member and Director of the Program and Budget Authorization Staff of the House Permanent Select Committee on Intelligence. His responsibilities included oversight and coordination of staff reviews of national and tactical intelligence activities. Specific areas of specialty included space and airborne reconnaissance, industrial base, acquisition reform, and support to military operations. In December 1992, he served on the Intelligence Transition Team for the new administration. Fitch holds a bachelor's degree in Political Science from the University of Rhode Island and an MBA from the University of Dallas Graduate School of Management. Most recently, he completed the Program for Senior Executives in National and International Security at Harvard University. Fitch is a member of the George C. Marshall Foundation's Board of Trustees; Ford's Theatre Board of Governors; and the National Cryptologic Museum Foundation's Board of Directors. He is a member of the Sigma Iota Epsilon Business Honor Society, and is a Principal for the Council for Excellence in Government. He has served on the USO World Board of Governors; Board of Directors for the National Military Intelligence Association; and on the Technical Committee of the American Institute of Aeronautics & Astronautics.
Lee H. Hamilton
Lee is a former member of Congress and co-chair of the 9/11 Commission.
Lee H. Hamilton serves on the Board of Directors of BAE Systems, Inc., the company's wholly-owned U.S. subsidiary. Hamilton is president and director of the Woodrow Wilson International Center for Scholars, and director of The Center on Congress at Indiana University. Hamilton represented Indiana's 9th congressional district for 34 years beginning January 1965. He served as chairman and ranking member of the House Committee on Foreign Affairs, chaired the Subcommittee on Europe and the Middle East, the Permanent Select Committee on Intelligence, the Select Committee to Investigate Covert Arms Transactions with Iran, the Joint Economic Committee, and the Joint Committee on the Organization of Congress. As a member of the House Standards of Official Conduct Committee Hamilton was a primary draftsman of several House ethics reforms. Hamilton served as co-chair of the Iraq Study Group, a forward looking, bi-partisan assessment of the situation in Iraq, created at the urging of Congress. He served as ViceChair of the 9/11 Commission and co-chaired the 9/11 Public Discourse Project established to monitor implementation of the Commission's recommendations. He is currently a member of the President's Foreign Intelligence Advisory Board, the President's Homeland Security Advisory Council, the FBI Director's Advisory Board, the CIA Director's Economic Intelligence Advisory Panel, the Defense Secretary's National Security Study Group, and the US Department of Homeland Security Task Force on Preventing the Entry of Weapons of Mass Effect on American Soil. Mr. Hamilton is a graduate of DePauw University and Indiana University law school, and studied for a year at Goethe University in Germany. Before his election to Congress, he practiced law in Chicago and Columbus, Indiana. Lee and his wife, the former Nancy Ann Nelson, have three children: Tracy Lynn Souza, Deborah Hamilton Kremer, and Douglas Nelson Hamilton, and five grandchildren: Christina, Maria, McLouis, and Patricia Souza, and Lina Ying Kremer. - See more at:
http://www.baesystems.com/contact/BAES_025986/Lee-H.-Hamilton?_afrLoop=461782728660000&_afrWindowMode=0&_afrWindowId=mvs1t9wpq_476#%40%3F_afrWindowId%3Dmvs1t9wpq_476%26_afrLoop%3D461782728660000%26_afrWindowMode%3D0%26_adf.ctrl-state%3Dmvs1t9wpq_540
Linda Parker Hudson
Linda Hudson
Outside director
Hudson is the retired president & CEO of BAE Systems, Inc.
Linda Hudson retired as president and CEO of BAE Systems, Inc. in January 2014. She led the global, U.S.-based defense, aerospace, and security company with nearly 40,000 employees and $12.75 billion in annual revenue. Hudson was an executive director on the BAE Systems plc board of directors and a member of the company's executive committee. She was also an executive director on the BAE Systems, Inc. board of directors. Prior to becoming CEO, Hudson was president of BAE Systems' Land & Armaments operating group, the world's largest military vehicle and equipment business, with operations around the world. Before joining BAE Systems, she served for seven years as an officer and vice president of the General Dynamics Corporation and was president of General Dynamics Armament and Technical Products. Hudson held a variety of senior management positions in engineering, production operations, program management, and business development during a period of significant consolidation in the defense industry. Beginning her career with the Harris Corporation and Ford Aerospace, she led organizations at Martin Marietta through the Lockheed Martin merger and a subsequent divestiture to General Dynamics. Selected to receive the USO's 2011 Woman of the Year Distinguished Service Award, Hudson has received numerous accolades and recognitions for her professional accomplishments and philanthropic activities. Recognized as an innovative leader and trailblazer, she has been featured in numerous periodicals such as the Washington Post, the Wall Street Journal, the New York Times, and Forbes. The London Sunday Times proclaimed her "the first lady of defense." Hudson is a member of the Bank of America board of directors. She currently serves on the boards of the University of Florida Foundation and Center for a New American Security. She is a member of the International Women's Forum and C200, the premier global organization of women business leaders. Hudson received C200's 2011 Luminary Award for Corporate Innovation. She has been cited as one of Fortune Magazine's 50 Most Powerful Women in Business and one of Washingtonian Magazine's 100 Most Powerful Women in Washington. Washington Business Journal has named her one of its Power 100 and one of the Most Admired CEOs. She was inducted into the Washington Business Hall of Fame in December 2013 and received the 2013 Association of the U.S. Army's Dixon award for her industry leadership and contribution to national security. A graduate of the University of Florida, Hudson received her bachelor's degree in systems engineering with honors. She remains active in the alumni and athletic associations and serves on advisory boards for the College of Engineering. Honored as a Distinguished Alumnus, she is a member of the Industrial and Systems Engineering Hall of Fame. She holds an honorary doctorate in engineering from Worcester Polytechnic Institute. - See more at:
http://www.baesystems.com/article/BAES_027248/linda-parker-hudson?_afrLoop=461842140042000&_afrWindowMode=0&_afrWindowId=mvs1t9wpq_537#%40%3F_afrWindowId%3Dmvs1t9wpq_537%26_afrLoop%3D461842140042000%26_afrWindowMode%3D0%26_adf.ctrl-state%3Dmvs1t9wpq_601
Richard J. Kerr
Mr. Kerr is former Deputy Director of Central Intelligence.
Richard Kerr serves on the Board of Directors of BAE Systems, Inc., the company's wholly-owned U.S. subsidiary. Prior to his serving on the board, Mr. Kerr served in the Intelligence community for 32 years- from September 1960 until March 1992. He started as a country analyst in the Central Intelligence Agency (CIA) and ended his career as the senior professional intelligence officer in the U.S. government serving as Deputy Director of Central Intelligence. During his career he managed a full range of CIA elements, served in all four directorates and led two of them. He also managed the community's imagery collection requirements committee, served as executive officer of the Intelligence Community Staff, and was on the staff of the Commander in Chief, U.S. Forces Pacific. He currently sits on the advisory panel for the Central Intelligence Agency, and is a frequent consultant to government and industry. Mr. Kerr has earned his Bachelor of Arts in history, and performed his graduate work at the University of Oregon. He has received numerous awards and honors which include two National Intelligence Distinguished Service Medals for work in the intelligence community and two Distinguished Intelligence Medals for work in the CIA. He was also awarded the Citizens Medal by President Bush recognizing his role in Desert Storm. Mr. Kerr and his wife Janice have three sons; Randall, Andre and Kevin; and a daughter, Meagan.
- See more at:
http://www.baesystems.com/our-company-rus/bae-systems-inc-rus/inc-board-of-directors/richard-kerr?_afrLoop=461926333762000&_afrWindowMode=0&_afrWindowId=mvs1t9wpq_598#%40%3F_afrWindowId%3Dmvs1t9wpq_598%26_afrLoop%3D461926333762000%26_afrWindowMode%3D0%26_adf.ctrl-state%3Dmvs1t9wpq_662
PREVIOUSLY
WASHINGTON--(BUSINESS WIRE)--March 22, 2001 BAE SYSTEMS North America announces the appointments of General Anthony Zinni (USMC Ret), Robert Prestel, previous Deputy Director of the National Security Agency, and Robert Fitch, Vice President, Marketing and Government Relations to its Board of Directors. The Board of Directors serves as one of the guarantors and oversight bodies for the Special Security Agreement between the US government and the company on matters bearing on national security. General Zinni has served in the Marine Corps for 30 years, his last active duty assignment being Commander, Central Command, responsible for all joint activities conducted in the Middle East. Robert Prestel had a 34-year career at NSA, ultimately holding the senior civilian position presiding over the agency whose twin principal missions are the production of foreign signals intelligence and the protection of the communications and information systems of the U.S. government. Robert Fitch is the current Vice President in charge of marketing and government relations for BAE SYSTEMS North America from its Washington office in northern Virginia. "The addition of these excellent directors to our Board serves to emphasize the importance this company places on our national security," said Mark Ronald, president and CEO, BAE SYSTEMS North America. "Additionally, I want this new Board to help us focus our business for the future, ensuring by their oversight that the direction that we set is consistent with the course laid out for national defense and maintaining our nation's technological edge." The full Board of Directors is now constituted as follows: (bios available)
-- Mark Ronald, President and CEO, BAE SYSTEMS North America

-- John Weston, Chief Executive, BAE SYSTEMS plc

-- Mike Turner, Chief Operating Officer, BAE SYSTEMS plc

-- John Currier, General Counsel, BAE SYSTEMS North America

-- Robert Fitch, Vice President, Marketing and Government Relations

-- Richard Kerr, former Deputy Director of Central Intelligence

-- William Schneider, Jr, former Under Secretary of State for Security
Assistance, Science and Technology

-- Dr. Robert Cooper, former Assistant Secretary of Defense for Research and
Technology and Director for the Defense Advanced Research Projects Agency
(DARPA)

-- General Anthony Zinni, USMC ret, former commander, Central Command

-- Robert Prestel, former Deputy Director, National Security Agency

Note to Editors BAE SYSTEMS is the truly global systems, defense and aerospace company. BAE SYSTEMS employs more than 100,000 people, in eight home markets around the world and has annual sales of some $18 billion. The company offers an unrivalled global capability in air, sea and land and space with a world-class prime contracting ability supported by a range of key skills. BAE SYSTEMS designs and manufactures civil and military aircraft, surface ships, submarines, space systems, radar, avionics, communications, electronics, guided weapon systems and a range of other defense products. BAE SYSTEMS North America employs 22,000 people in the design, development, integration, manufacture and support of a wide range of advanced aerospace products and intelligent electronic systems for government and commercial customers. www.baesystems.com